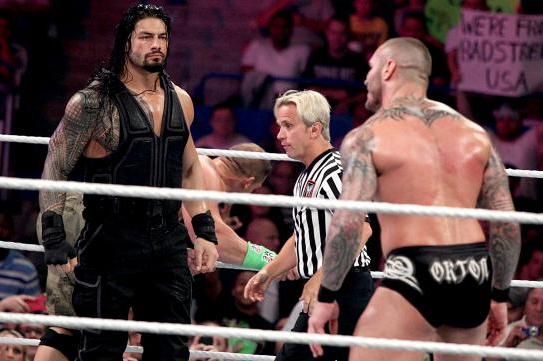 OK, Battleground is finished. No real earth shattering events took place, but it was a nice solid night of in ring action. It was the kind of show that the WWE network was made for. Watching it for the price of a pre-paid $10 a month left a lot better feeling than if I'd ran up $50 in pay per view charges to order it from my cable company. Honestly, if I had to pay the $50 in order to see it I would have probably passed. But it was a good show for what it was. If you want some good matches, better than what you normally get on regular television or cable, then this was a good way to pass a few hours. Here are the important things I took away from the show:
The right choice - John Cena retained the title in the main event. If you're a Cena hater that probably killed the show for you. If you're not then it's pretty easy to see that it was the obvious ending. Summerslam is the second biggest show of the year, so if you're going to do a title change that's the place to have it. And none of the three challengers was somebody you'd put the belt on right now. Kane has no chance of ever being champ, Randy Orton just lost the belt a few months ago, and Roman Reigns future win is going to take place at something like WrestleMania. If you can't see that, then I can't help you.
Reigns Rising - Everybody knows that Reigns is getting the slow but big push to the championship. I've been saying that the main things holding him back right now are speaking and the question of whether or not he can perform well in a 20-plus minute, one on one match. He's been protected up to this point by being in the eight man ladder match last month and a Fatal Four Way this time around. He did get a few sequences where he was one on one with Cena, and they did pretty well together. That could very well be a foreshadowing of WrestleMania 31. Based on what we saw last night, the two could put on a good show next April given some more time to work together.
Better than expected - Battle Royals are usually a sloppy mess. The one last night for the Intercontinental Title started out that way but once the herd thinned out it was a lot of fun. The Miz sneaking up on Dolph Ziggler to steal the win is right up the alley for the way they're going with him now. Ziggler and Sheamus put on a good show when they were seemingly the last two guys in, and Kofi Kingston found yet another creative way to escape early elimination . A fun match. The match between Jack Swagger and Rusev also exceeded expectations. Rusev continues to have better than expected matches on pay per view shows; this one follows his back to back matches with Big E Langston that were pretty good. Maybe it's a good choice of opponents, or maybe he's better than we think but we'll see down the road.
Weird booking - The Chris Jericho-Bray Wyatt match was strange to me. Bray continues to have matches with big name people that are good but not great, the exceptions being his match against Daniel Bryan at the Royal Rumble and the last man standing match he had against Cena at Payback. There was a little sloppiness, and then Jericho just wins clean out of the blue. You couple that with Rowan and Harper not winning the tag titles in the opener and it gives the impression that maybe the people up top are a little skittish about the Wyatt family. We'll see. Rowan and Harper had the match of the night against the Usos, but to no avail. I was assuming this would be a two month program, but maybe not.
Diva's Title Match _ AJ retained the title, which was expected. The match between her and Paige was one of the better Divas matches you'll see; they could have gotten a few more minutes in my book.
The forfeit - The non match between Dean Ambrose and Seth Rollins was the kind of thing that would have gotten Eric Bischoff crucified. They clearly want the first encounter for Summerlsam but could have just had an actual match that ended in a non finish. Why they didn't do that here is beyond me.
Next up is Summerslam. Cena will probably be defending the title. Brock Lesnar will be involved somehow, and maybe we'll get an actual match between Ambrose and Rollins.